I'm definite in saying that broccoli is my favourite vegetable in the world-steamed, with butter, in a soup...all awesome! We're growing some at home and whilst it doesn't look quite like this yet, I have high hopes...
Broccoli and Tahini Soup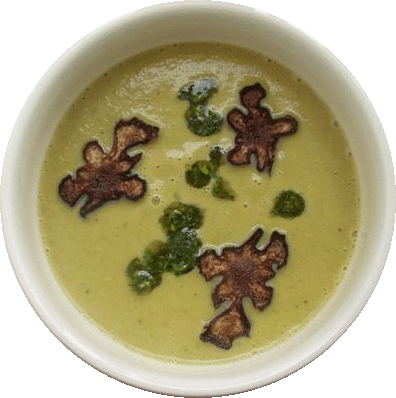 For the soup:
2 tsp olive oil
1/2 small onion, finely chopped
2-3 cloves garlic, finely chopped
florets (about 250-300g, 9-10 oz) from 1 head of broccoli, chopped
vegetable stock
2 Tbsp tahini
black pepper to taste
For the gremolata:
leaves from 1 head of broccoli
an equal volume of flat-leaf parsley
1 Tbsp fresh lemon juice
1 Tbsp extra-virgin olive oil
salt to taste
For the croutons:
12 thin slices (1/4 cm, 1/2 inch) from the interestingly-shaped part of the broccoli stem (see photo)
olive oil
salt and black pepper
Method:

1. Heat the olive oil in a saucepan over medium heat, and saute the onion for about 7 minutes until softened. Add the garlic and chopped broccoli florets and stir briefly to let the garlic release its flavour into the oil. Pour over hot vegetable stock to cover, bring to the boil, reduce heat and simmer uncovered for 20-25 minutes until the broccoli has softened (the amount of time it takes will depend on how much stalk you left on the florets).

2. (Optional) While the soup is simmering, make the gremolata: chop the broccoli leaves together with the parsley until very finely-minced. You should end up with 2-3 Tbsp of the minced mixture. Stir in the lemon juice and olive oil, and season well with salt. Set aside for the flavours to infuse.

3. When the soup has finished simmering, stir in the tahini, season with black pepper, and puree in the blender. Return to pan and keep warm.

4. (Optional) Make the croutons just before you're ready to serve. Heat a generous layer of olive oil in a small frying pan, until very hot. Season the broccoli slices with salt and freshly-ground black pepper and then fry them in the hot oil, turning once (I use chopsticks to do this), until lightly (or darkly!) browned, according to taste. The ones in the photo are done to my taste, which is well-browned. Drain them briefly on kitchen paper after taking them out of the oil.

5. To assemble the soup, pour it into four warmed bowls, balance the croutons on top, and drizzle over a little of the gremolata. Serve at once, with the rest of the gremolata in a small saucer for people to add as required, or dip their bread into.'

From Kake's Vegan Cookery Site

Vegan Broccoli Casserole

Ingredients
1 med Potato -- peeled and chopped

1 teaspoon Salt

Couple of bundles of broccoli chopped

4 oz Tofu, firm -- crumbled

1/2 md Carrot -- scraped and

1/2 c Nutritional yeast flakes

1 tb brown Rice, brown, instant

1/2 med Onion -- peeled and

10 oz Mushrooms sliced

1 cup water
Instructions
1.Preheat oven to 350 degrees. In a small saucepan, bring potato, carrot, onion, 1 cup water and salt to a boil over medium high heat. Lower heat to medium, cover and simmer until potato and carrot are tender, about 10 minutes.
2. Meanwhile, thaw frozen broccoli in a colander under hot running water, then set aside and drain well.
3.When potato mixture has finished simmering, pour into a blender and add tofu, yeast, lemon juice and garlic.
3.Blend until very smooth and creamy. Pour into a shallow, greased 1 1/2- to 2-quart casserole.
4. Add broccoli, rice, mushrooms and 3/4 cup water. Stir well and smooth top of casserole.
5.Bake for 40 minutes, until golden and bubbling. Serves 4
from Big Oven