I have to be honest with you, parsnips are actually my most hated vegetable. I've tried to like them but I don't really and have often come across them in dishes hoping they were potato. But they are quite good blended to disguise the taste, and here's some ideas for those of you who love them:
Root Vegetable Crumble


Ingredients
Serves 4

300g Chantenay carrots or baby carrots (or small carrots, chopped into chunks)
500g peeled and cubed mixed root vegetables eg parsnips, sweet potato, swede, celeriac, kohlrabi
1 onion, peeled and chopped
2 tbsp olive oil
40g plain flour
40g butter
400ml milk
1 tbsp chopped parsley
1 tbsp crème fraiche
1 tbsp horseradish
50g grated mature cheddar
50g wholemeal breadcrumbs
sea salt and black pepper
some grated nutmeg

Method
Heat the oven to 180DegC.


Heat a frying pan, add the olive oil and sauté the Chantenay carrots and the mixed root vegetables and onion for 4-5 minutes, until softening. Season with sea salt, black pepper and some grated nutmeg.


Place in an oven proof dish.


To make the sauce, melt the butter in a saucepan, add the flour and mix together and cook the mixture for 1 minute. Do not brown. Remove from the heat, pour in the milk and whisk the mixture until smooth. Place back on the heat and slowly bring to the boil, whisking constantly until just boiling. Simmer for 1 minute, remove from the heat.


Add the horseradish, crème fraiche, season well, pour over the vegetable mixtures.



Mix together the cheese and breadcrumbs and sprinkle over the vegetables. Bake in the oven for 30-40 minutes so the vegetables are cooked and the topping is golden brown.
These would be great at a party I reckon!

Ingredients
Parsnips
vegetable oil
salt
Peel and slice the parsnip. It is important to make sure that the slices are all the same thickness so that they all cook at the same time. They do not need to be as thin as you would expect potato chips to be I would suggest to try about 1/2 cm thick. Boil the parsnip for five minutes and then strain of the water and leave to cool. Spread out on a baking sheet and brush with some oil. Bake in a preheated 160 degree oven for about 15 minutes, until golden brown. Check every 5 minutes as they can burn very easily.
Great served warm or cold on their own sprinkled with salt or with dips.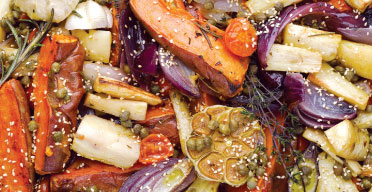 The addition of vinaigrette to freshly roasted vegetables gives them a freshness and juiciness they don't normally have; the acidity brings out new shades of flavour, too. The combinations are endless - try adding yam or salsify, or celeriac and beetroot. Furthermore, the dressing can easily take a sweet note, if you prefer - just omit the capers and add honey or maple syrup. Fold in some fresh herbs, such as basil or oregano, chopped at the last moment, and a little grated lemon zest to take it even further. Just try. Serves four.
4 parsnips (around 700g in total)
2 red onions
90ml olive oil
4 sprigs of thyme
2 sprigs of rosemary
1 head garlic, cut in half horizontally
Salt and black pepper
2 sweet potatoes (around 600g)
20 cherry tomatoes, halved
2 tbsp white-wine vinegar
2 tbsp baby capers (or larger ones roughly chopped)
1 tsp mustard
1 tbsp toasted sesame seeds
Preheat the oven to 180C/350F/ gas mark 4. Peel the parsnips and cut them into two or three segments, depending on their lengths. Cut each piece lengthways into two or four - you want pieces that are roughly 5cm long and 1.5cm wide. Top and tail the onions, peel them and cut each into six wedges.
Place the parsnips and onions in a large mixing bowl and add 60ml of olive oil, the thyme, rosemary, garlic, a teaspoon of salt and some pepper. Mix and spread out on a large roasting tin. Roast for 35 minutes.
While the parsnips are cooking, top and tail the sweet potatoes. Cut them (with their skins) into two widthways and then cut each half into six wedges. Add the potatoes to the tray with the parsnips and onions, stir and return to the oven for another 35-45 minutes.
Once all the vegetables are cooked through and golden brown, stir in the halved tomatoes and return to the oven for another 10 minutes.
Whisk together the vinegar, capers, mustard, 30ml of oil and half a teaspoon of salt, and pour over the roasting vegetables the moment they come out of the oven. Stir, taste and adjust the seasoning as necessary. Scatter the sesame seeds over the top and serve straight from the tin.